Parkland County Location - Coming Fall 2024
---
--- ---
PLEASE CONTACT COLIN EWANCHYSHYN FOR UNITS THAT ARE AVAILABLE FOR SALE IN PARKLAND COUNTY.
Bay Details
Dimensions: 50 FT x 20 FT
Size:1000 SQ FT
Ceiling Height: 18 Feet
Purchase Price: $179,988 (+GST)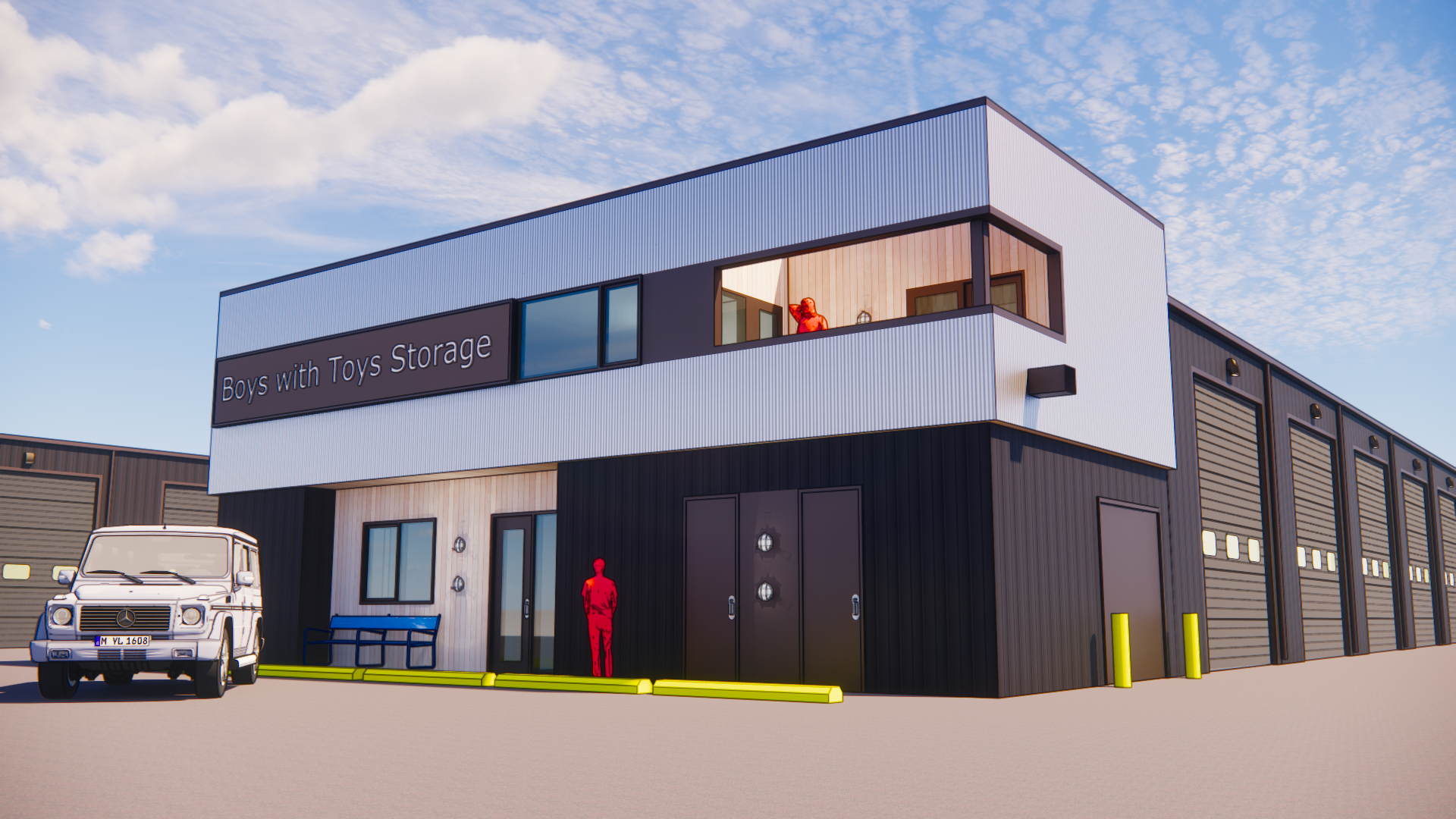 Boys with Toys Storage is proud to be expanding to Parkland County, Alberta. Our business is beyond excited to bring our reliable and industry-leading indoor storage product to the greater Tri-Regional area.
As outside adventure continues to increase more and more within people's daily lives, people are purchasing toys and vehicles to pursue their love of the outdoors. But at the same time, these people still live within a City like Spruce Grove, or a Town like Stony Plain and simply do not have enough room or the amenities to properly store their outdoor toys. This is where Boys with Toys Storage comes in, we provide our customers with an enclosed storage space to keep their boats, trailers, RVs, cars, dirt bikes, quads, snowmobile's, or any other toys that they might have in a safe, secure and heated storage bay.
Our site in Parkland County, very similar to our site in Sicamous, British Columbia will be constructed with a steel frame on top of a concreate pad, with the exterior wrapped in metal sheeting. Each interior will be drywalled and painted, with L.E.D. lights and two 110-volt plugs. All bays will equipped with forced air heaters to keep each unit at the desired temperature of the owner, especially during winter months. This location will feature two 16 foot high by 14 foot wide drive through doors that include two remote control automatic garage door openers. Each unit will have one-man door for easy access. Entry to the site will be granted through a fob system, available to owners 24 hours a day, seven days a week. This development will have a common bathroom, with City water and sewer as well as handicap parking stalls for office patrons.
In addition to providing our clients with a place to store their possessions, our location also features a full-time on site property manager who will be the main point of contact for any issues that arise within the development. This location will also have a state of the art security system with fencing and gates, and a fully paved easily accessible lot. Here at Boys with Toys Storage, we pride ourselves on upkeeping a well maintained space when it comes to snow removal, maintenance and landscaping, including grass and trees.
The Boys With Toys Storage - Parkland County Location is set to be complete in the Fall of 2024. Please continue to monitor this website for further updates.