Why Choose Boys With Toys Storage Parkland County? Read More Here!
---
---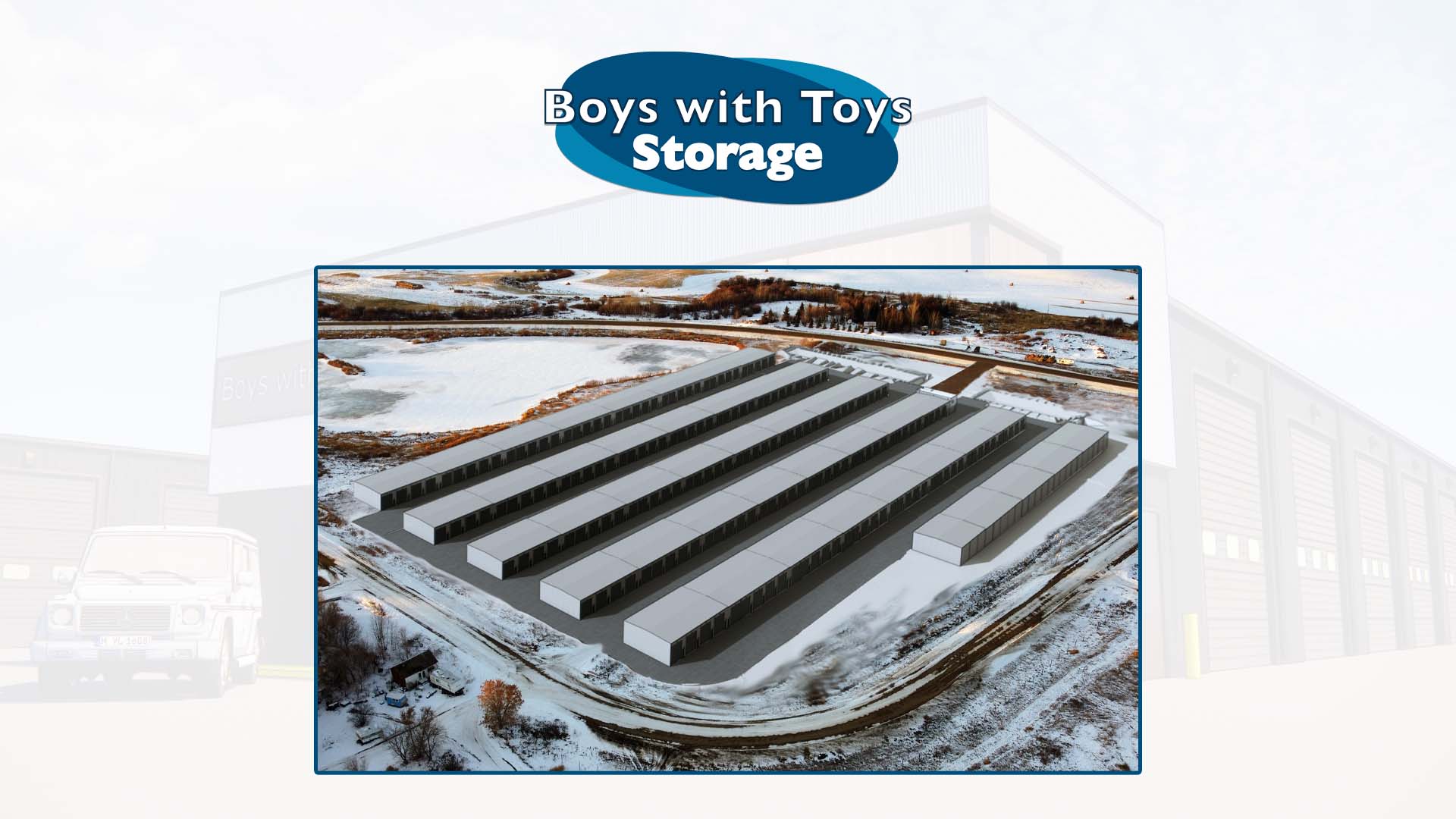 ---
You have invested a lot of money into your RV, boat, side by side, sleds or quads. You enjoy them throughout the year but when it comes to storing them your choices in the Edmonton area are limited.
Many people who live in the Spruce Grove, Stony Plain, Parkland County, St. Albert and the Edmonton area lack the space to properly store all their toys on their own property.
So, you must find a place to rent a lot. Typically, you have many options to choose from for an outdoor lot that leaves your RV and boat prone to critters and weather damage and if you have more than one toy you need to rent two lots. There has never been an inexpensive indoor secure storage facility that is large enough for all your toys…
Until now!
Coming in 2023! Boys with Toys Storage, which is conveniently located just north of Spruce Grove with easy access to the Yellowhead Highway.
Boys with Toys Storage offers indoor, heated and private storage for you to store all your toys comfortably and affordably.
Our units are 1000 sq. ft of drive through storage. Each unit is 25 x 50 - wide enough for two RV's to park side by side and still be able to open the doors!
Available now at pre-construction pricing, only $179, 888!
What is the benefit of buying your storage unit compared to simply renting an outdoor lot or partially covered lot? Well, let's break it down:
The main benefit is that the units are individually titled. Which means that you own your own unit and essentially have all the rights you would have when buying a home. So, if you decide to use your unit for yourself you can or if you decide to rent out part or all of your unit you have the right to do that as well. It's a great investment and it's real estate so it will build equity in the future!
Looking at what else is available in the Edmonton area we found that partially covered storage is the closest in size to Boys with Toys.
The largest in the Edmonton area is 16 x 30 lots and are rented for $558/month. These storage facilities are not heated, not as big and most importantly less secure. These facilities are typically only secured with a gate in and out with a key card/fob access.
This is where Boys with Toys is substantially different with each unit in our facility being individually secured and totally enclosed so no one can see inside your unit and our facility has a state-of-the-art security system in place, plus there is an on site security guard!
Financing a purchase has been made incredibly easy with a great partnership developed with the Stony Plain branch Servus Credit Union. They can provide you with many financing options including up to 100% financing! Put down $50,000 (which is about 28% of the total purchase price) and you can finance the remaining $129,988 over 300 months. Your monthly payment would be $992/month. This means that you're only paying an extra $438/ month for a fully enclosed, heated and more secure storage solution for your investments!
A great option is sharing a unit. If you and a family member or friend want to share the unit (remember each unit can house two RV's side by side with room to open the doors and still has space to add a boat or sleds in the unit!) If you split the unit with friends/family, putting the same amount down and sharing the monthly expenses your monthly payment is now $496/month each. If two families share a unit it is less than renting 2 outdoor lots and you own the asset!
Whether you've been thinking about buying the unit solely for yourself to use or to rent out; or you and some friends have been thinking about buying a unit together there is a great benefit of choosing our units over your other conventional storage facilities.
Pre-construction pricing won't last long!
For more information, please contact Colin at 780 909 3446 | colin@boyswithtoysstorage.com